THE LIFE & TIMES OF PGH VINTAGE
It started with pioneers like EONS, Who New, and Weisshouse stocking the city with throwback frocks, phoned in Halloween costumes and mid-century living room sets.  And for years, they were the only game in town for the loyal fans of vintage. 2011 bought a new options with Highway Robbery's boutique vibes in South Side as well as the launch of The Vintage Mixer's collection of vendors from housewares to records.
Fast forward five years and vintage is having its time in the Pittsburgh sun (and that's saying something given PGH's weather).  Toll Gate Revival opened its doors, bringing 'lost goods & found wares' to Lower Lawrenceville in an effortlessly cool space (you had us with the screen door).  Across town, JUJU is other worldly with bohemian women's and home wares alongside crystals, smudges & tarot readings along a quiet Point Breeze street.  And the openings keep coming.  Scheduled for late summer openings are two more vintage locations; Royal on Main St (Bloomfield/Lawrenceville) and Mello & Sons on Butler St (Lawrenceville).
Royal is the product of Galen Privett who left his position at American Eagle as a buyer to pursue his love of vintage.  You might have come across his collection of menswear at events like the Ace Hotel's vintage fair or The Vintage Mixer over the years.  But soon, you will be able to pop into his clean-lined, ply studded shop on Main St at your leisure.
Priviett's collection spans the spectrum from streetwear to tweed dinner jackets offering something for everyone. While men's vintage is the focus, Privett is also planning to stock tees he designed with a couple of non-vintage lines hitting the shelves in 2017.  To even better the cathartic exercise of scanning the racks here, grab a latte from neighbor 4121 Main before and take your time.   Look for an opening date of August 19th complete with opening party.
The path for Mello & Son's owners Syd & Neal Mello started in Williamsburg, Brooklyn with their acclaimed vintage shop Grand Street Bakery.  And when I say acclaimed, I mean like New York Magazine naming them Best Vintage Everything kind of acclaim.  After having their second child, the couple decided to move back to PGH, where Syd grew up (among all the killer vintage at Weisshouse…her mother is owner Stacy Weiss).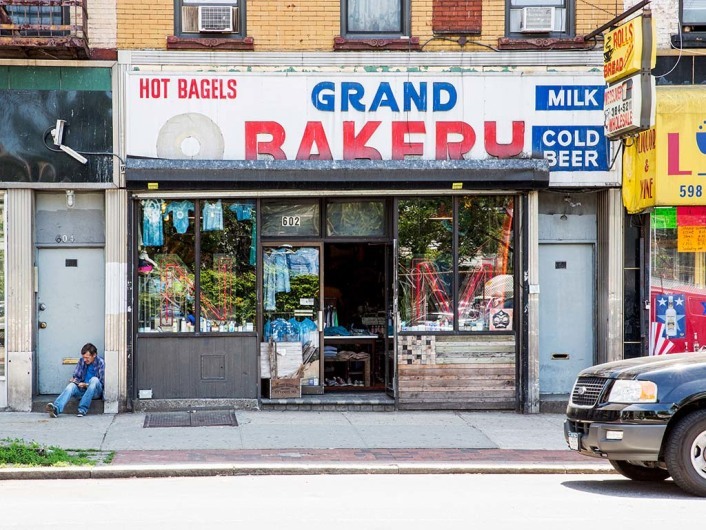 After a couple months of searching, the couple landed on a location in central Lawrenceville and are in the process of outfitting the space with 100 year maple floors and uncovering original subway tile.  Like in their NY shop, the focus will be on men's & women's denim, tees and all things Americana (think Red Wings, Levi's, Pendelton).  Complimenting the clothing will be accessories like wallets, candles, beauty products as well as larger items like furniture.  If it's anything like their Brooklyn shop (see above), we are in for a treat.  The goal is a Labor Day soft opening with more product rolling in as the shop finds their rhythm.
Joining them on the 4400/4500 block of Butler Street is a slew of newness; a new ramen bar from Piccolo Forno's Dominque Branduzzi & Umami's Roger Li, the gut renovated New Amsterdam now with a rooftop bar, 12 apartments from Brooklyn developer Crow Hill and Bahn Mi & Ti.  'I can't be happier with what's happening to the blocks on either side of the shop,' says owner Emily Slagel of Joan Shop + Studio who also is a partner in the The Vandal. 'It is going to totally change the energy of the section of the neighborhood.'  And I happen to totally agree.
x Royal. 4124 Main St. PGH, PA 15224
x  Mello & Sons. 4405 Butler St. PGH, PA 15201